Show.Off & Take Care-Fest
show.off-Konzerte gönnt dir einen Tag .OFF:
Ein-Tages-Fest mit Bands im Saal und im Atelier + Aftershow.off-Party mit
Alex Zavala (Producer/DJ von Dark Time Sunshine) + DJ Pickster.
Freitag 30. Septemper im IvI, Kettenhofweg 130, Frankfurt!!
lovely….
Doors: 15:30 Uhr. Start: 16:00 Uhr. Pünktlich!!! Köstliches hosted by Kantine! Kaffe & Kuchen! Konzert Photographien von Marc Krause im Atelier!! und ganz viel <3 <3 <3
Line-Up Infos:
Was, die gibt's noch? Klar – und nicht nur das: Es gibt auch ein neues, nein, das erste Shokei-Album überhaupt, aber erst 2012, zum zehnjährigen Bestehen und nach bislang sechs Kleinformaten. Schon an diesem Abend gibt's aber neue Songs, neue Bademäntel, neue Räucherstäbchen, neue Neuigkeiten und viel Musik. Welche? Grob gesagt: Mischung aus Fugazi mit Bierfahne, Weltmusik ohne Ethnokitsch und Krautrock mit ein bisschen weniger Kraut und dafür ein bisschen mehr Rock. Die einfache Gleichung: Zwei Schlagzeuge + Gitarre + Bass = mehr Punk als ihr, seit 2004 (spätestens). Vorsicht: Kann ein Publikum mitunter verstören (siehe Foto, Umsonst und Draußen Würzburg 2010). Wer vorab mehr wissen will: Es gibt das Internet. Kontakt!
www.shokei.de
shokei.bandcamp.com
facebook.com/shokei.band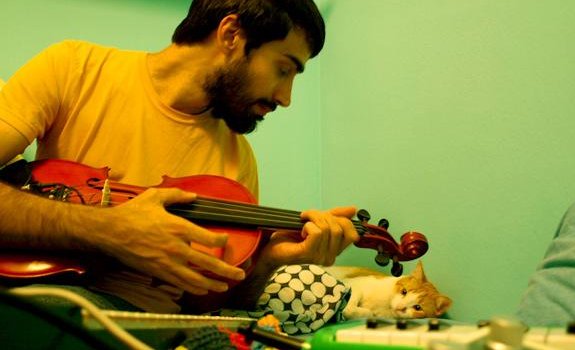 The albums of Portland, Oregon based multi-instrumentalist cars & trains (Tom Filepp) consist of handfuls of microscopic crafted worlds, shaped with tiny precision. Layers of decaying feedback, sparse glockenspiel and tape samples weave a dark and dense tapestry of sound while deep brooding vocals sit atop songs with deceptive timing, subtle electronic stutters, and thunderous and organic drumming. Banjo driven four to the floor stompers yield to velvety acoustic guitar and spacious instrumentals laden with sampled americana.
Tom's work as cars & trains evokes early Morr Music releases by bands like Tarwater, intersecting with folk-oriented electronic groups like Tunng. Found sound and distorted tape samples create urban lullaby landscapes. Undaunted, meloncholic drums and timid textures are reminicent of cloudDEAD or Tujiko Noriko, sitting atop an eclectic songwriting sensibility that brings The Microphones to mind.
Tom translates his recordings to the stage with a unique solo set, energetically looping found-sounds and live electronic drumming with layers of vocal harmonies, viola, glockenspiel, trumpet, synthesizer, and melodica. All the while keeping an intense and engaging dynamic going, he weaves his songs into a captivating near-non-stop medley that is ever-changing and unique, no two shows being quite the same.
He also runs Circle Into Square, an artist run label and magazine, the entire site and label created from scratch as a means for artists to directly release their music and artwork with cutting edge resources, and to help adapt to the constantly changing music industry. Circle Into Square's roster includes artists like Boy In Static, ID & Sleeper, Skating Club, BRE'R, The Harvey Girls, Helios, Big Spider's Back, and cars & trains.
cars & trains – intimidated by silence from cars & trains on Vimeo.
Cars & Trains – Live on KPSU pt. 1 from cars & trains on Vimeo.
This is a rather unusual, yet in its essence familiar, outfit from Dresden/Berlin. May as well being described as a bucket-smashing, african-rhythm, industial-noise, hip-hop duo — the two excellent musicians interweave complexity and groovabilty so playful and nicely together.
Drummy sort of drums,
Guitary sort of guitar.
It's been a while now for schnaak to evolve from furry factory noise sessions of the 4 songs they played for one year solid. Initially they rubbed faces in persistence that said "get used to it". A metal bucket has been proper band member since the first day, comfortably embedded amongst the two. The two, with the four arms, two that stroke the wire, hold the wood. They make fire from amplifires, they know how to do that and cook human flesh over it nicely.
A while later the SchnAAk has lived up and loves the hip-hop beats and african rhythms, tho still working deep down in a factory of noise, but adjusting their machines nicely to sing along.
You get what i'm saying?
A never seen before: SchnAAk.
References: played shows with Deerhoof, Kayo Dot, ZU, 31Knots, Melt Banana, Dälek; EU Tour with DYSE, US Tour 2010; Headlined Discorporate/Eine Welt Aus Hack showcase at Primavera Sound 2011.
Press:
"Guck mal, das ist meine Lieblingsband. Sie heißen SchnAAk und das ist ihre beste Platte bisher." VICE (8/10)
"Klassisches Songwriting trifft auf Experimentierküche. Akustik-Noise auf elektronisches Kalkül. Alles, wirklich alles ist möglich, solange es unter die Haut geht und unberechenbar bleibt." ECLIPSED
" Eine der interessantesten Bands. Krachbunte Versammlung mehrerer Dutzend musikalischer Stile, deren Herkunft über den ganzen Globus verstreut ist — und vielleicht darüber hinaus. Dolles Ding!" TRUST

2econd Class Citizen
2econd Class Citizen's music is a hybrid of electronically produced folk rock combined with complex dusty drum-breaks to offer up a wide spectrum of emotive songwriting. Both his EP Releases "Divided Reality" and "Wyred Folk" created a buzz of anticipation from a diverse collection of musical circles and gained him great reviews and quotes from well respected figures in the music scene.
In september 2009, his astonishing debut album "A World Without" was released on Equinox Records from Berlin and hailed as 'one of the best records of the year' by a diverse bunch of critics as well as other musicians such as Strictly Kev ("one of the best records of the year") and DJ Format ("It's sounding bloody great!").
2econd Class Citizen has toured Europe in 2007 (Equinox Tour with Noah23, Ceschi & DJ Scientist) and 2010 (Strange Citizens Tour with Buddy Peace & Ceschi) and has performed at festivals including Glastonbury (UK) and Soundwave (Croatia). He has shared stages with the likes of Nosaj Thing, Ugly Duckling, Mr. Thing, Noah 23 and even prog rock legends Gong and Steve Hillage.
In his live show he sets out to recreate the complexity and depth of orchestration he has become known for, using sound editing software and live drumming to keep a strong improvisational aspect.
"Wilde Rhythmik, treibende Bässe, flirrende Gitarren zwischen kleinen Melodien und großen Riffs – THE FALCON FIVE klingen in den Songs ihres neuen Albums (Ende November auf Beau Travail Records) frischer und gereifter denn je. Da weht eine Prise Melodiepunk in den dancy Postpunk, da vermengen sich NoiseMathrock Frickligkeit mit eingängigen Hooklines und Handclaps. In Bands ausgedrückt finden sich da Anklänge von Mi Ami über Hot Club De Paris bis At The Drive-In und Les Savy Fav. Der Spaß am Songsaustüfteln sprüht einem nur so entgegen – Dancepunx not dead!" (Musikverein Nürnberg)
Cotton Ponies are the youngest of the young and still in school. Three little chick`s influenced by ex-models, Shellac, Sonic youth, a binding friendship and the 21st century.
The Music changed over the years, and is still not constant enough to describe but what we can say is that theyŽre lightyears away from the punky start they had.
Cotton Ponies released a EP and a tape through the D.I.Y. Label-collective "I love Marbach records", for the future theyŽre planning to release a full length LP via Discorporate records.
The three under-aged shared Stages with bands like ZS, Monotektoni, Child Abuse, AIDS Wolf and Volt
percussion lo-fi wave pop duo on their own tropical island.
weeds (+eight) – YOUNG HARE from marc krause on Vimeo.
Lauxen plays everything he is not able to play and sings every note he is not able to sing. And he uses a lot of things in ways they are not supposed to be used. He writes the songs that are not supposed to be written and destroys the sounds that are supposed to live – without really making them not live. Perhaps he saves their lives. And he lives it all: Pop, Electronica, screaming guitars, his record collection.. It's all in his music and his music is all in him. One man with a laptop and some instruments against the world. Or with the whole world against who? – You never know… what it will sound like in the end and he does neither. Everything is possible – from cut up drum attacks and surreals sounds collages to cosy ' you're-are-not-alone-with-that-pain-in-your-ass'-songs.
summer days: burger ghosts / greatest scene (excerpt) by Kind City
likelihood of rain by knertz collective
Andorra (Frankfurt)
The three youngsters from Andorra won the hearts of the boys and girls allready last time when they played their nicely lo-fi-chill music at the IvI. Be sure to see them this time and fall in love, too.
andorra live at ivi from marc krause on Vimeo.
be thrilled, we are allready!
cant wait to see you…..