diesen donnerstag ein feuerwerk bunter blumenstrauss rap !!!
Having started in music over 15 years ago as a battle rapper, Astronautalis' roots are planted firmly in hip-hop. However, the sounds and styles on his albums are an animal not so easily caged, and his latest release, "This Is Our Science" is no exception to that tradition of wild genre bending. To help shape this Andy Bothwell called in help from the cadre of musical friends he has made in his travels across 4 continents, and created a sound as diverse as the cast that behind it. Once again under the guidance of Grammy nominated producer John Congleton (Modest Mouse, Bill Callahan, St. Vincent), "This is Our Science" finds rock darlings like Tegan Quin (Tegan & Sara), Radical Face, (Electric President), members of Midlake & The Riverboat Gamblers all waltzing in time to the work of P.O.S. (Rhymesayers), Alias (Anticon/Sage Francis), Cecil Otter (Wugazi), Lazerbeak (Doomtree), and more of indie hip-hop's finest. The resulting album is the full realization of everything Bothwell has been chasing after for 7 years. Neither a rap record, nor a rock record, it is a work that finally captures the vein popping intensity and high melodrama of his famous live shows. All the while, maintaining the steadfast literary tradition and masterful storytelling of his previous studio albums.
und er mag katzen!
Calling Bleubird an MC doesn't feel complete. Storytellers draw from varied impulses, and Bleubird's vision is oddly utopian. He takes mere observations, gift-wraps them and re-presents them as spectacles. It's the type of satire that can only be born of a wide-eyed-yet-wary appreciation of modern day landscapes and the people who walk through them.
He claims (somewhat disingenuously): "I hide behind my humor because it's truth that I fear," but even in his darkest humor he betrays himself. Those who listen can tell that even at his most caustically comical and sarcastically potty-mouthed, it's all for love.
From Florida to Montreal to Berlin, Bleubird has lived among many communities, and made himself a part of each one. These nomadic tendencies are telling.
On tour, he's equally comfortable sharing the stage with the likes of Deerhoof, Battles, Masta Ace, Fatlip, Amon Tobin, Kid Koala, Otto Von Schirach, De Bug, Dalek, Lightning Bolt, Anti Pop Consortium, or Xiu Xiu. He gives the same intense energy to a different show for each performance, whether it's a crowd of 20 accountants or 200 club kids. In Bleubird's world, professionalism has nothing to do with delivering the rote show – it means getting the details out of the way so we can all get down to the real show. In his own words: "I like to yell and sweat and move and say exactly what I think and feel. I understand that always changes."
und er mag katzen!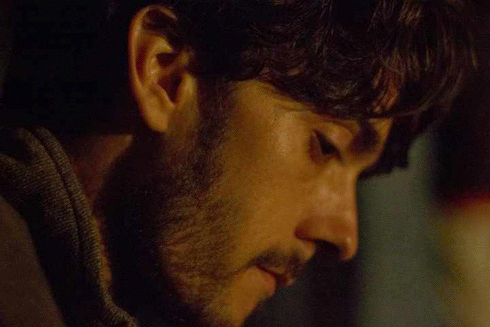 wenige werden ihn von dem 2005 erschienenen album "it's not who you know, it's whom you know" mit fbcfabric kennen. luke von thverfellshorn hat das letzte woche so erklärt: "imagine the quiet parts of godspeed you! black emperor or a silver mount zion with intense rap, like you never heard befor!" – das trifft es recht gut! mittlerweile dürfte er bekannt sein für sein arbeit als labelchef von decorative stamp, seine kollaborationen mit james p. honey oder einfach dafür dass er cooler dude ist. seine musik bleibt nach wie vor: winterhaft, intensiv.
mal fragen ob er katzen mag…
und als bonus die frankfurt-premiere:
The documentary "left fields" (as a reference to the genre term and to D.I.Y.) deals with the struggle of independent artists to gain ground in 2011 music business.
Interviewing MCs, label operators, producers and bookers, "left fields" explores the network of genre-crossing artists such as Ceschi, Noah23, Babel Fishh, Th' Mole, Gonjasufi, Robot Koch, Comfort Fit, Fulgeance, Oskar Ohlson, who collaborate within networks across Germany, Switzerland and Austria. So basically it is a lot about the spirit and maybe punk attitude of this movement.
Working with a very limited budget "left fields" tries to provide an insight into the alternative hip hop scene featuring various concerts, the development of art work (design, screen-printing, etc.) and of course the opinions and stories of everyone involved. "left fields" comes with a hand-made, screen printed cover on a limited edition DVD and is going to be launched in Austrian cinemas and festivals in December 2011.
with: Ceschi, Robot Koch, Fulgeance, Gonjasufi, Th' Mole, Dark Time Sunshine, A Band of Buriers, Oskar Ohlson, …
OFFICIAL LEFT FIELDS TRAILER from idunno on Vimeo.
Wie immer im IvI, Kettenhofweg 130, FfM. Türen: 21:00 Uhr Screening: 21:30 Uhr PÜNKTLICH!! (echt jetzt!)